Christian Outreach
Macarthur is a Christian school, where Christian values and attitudes are encouraged and where Christian principles underpin the daily operation of the organisation.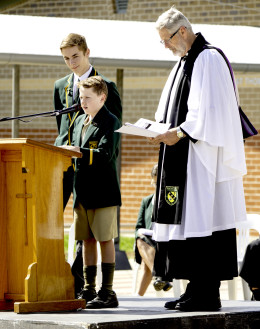 Please feel free to contact the Chaplain, The Reverend Michael Hyam, if you would like to know more about the Christian Faith and the salvation we can all enjoy through Christ Jesus.
Each week students learn more about the love of God demonstrated in Jesus Christ for them through Chapels, Biblical Studies lessons and through the work done in House Groups and classes. They are also able to be involved in Christian groups like Oasis and JAM and in weekly bible studies.
Staff come together each morning to pray and read the Bible, setting the tone for their work for the day.
Service is the heart of Christian ministry and there are many opportunities for students and staff to serve both within the school community and beyond.