Stage 2 under construction
The next exciting stage of building development on the school campus, following the opening of the Integrated Studies HUB and Precinct in 2022, began in early January 2023.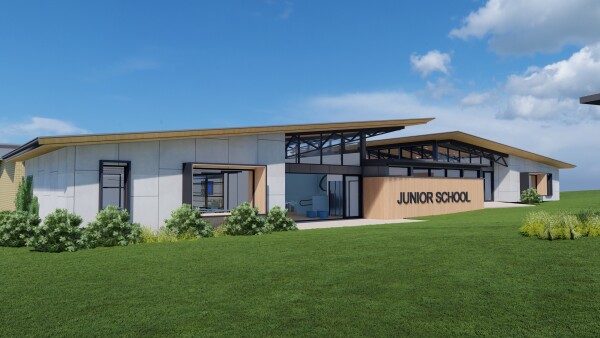 The students have just moved into Stage 1, the northern St Thomas building accommodating Year 1 and Year 2 students. Stage 2, the southern building, will accommodate Year 3 and Year 4 and will be finished by the end of the year. Photos from Tuesday, 1 August 2023, the first day in the rooms, can be found below.
The School has a planned, steady and measured growth in student enrolments occurring across the school. In the Junior School, this has resulted in an additional class being added each year commencing in Kindergarten a few years ago. As planned, in 2023, Kindergarten will have four classes, with three classes in Years 1-4.
To accommodate the current enrolment and future growth, the School Council has planned to renovate and expand the current Year 1 to Year 3 classrooms. A project will commence in January 2023 centred on the current Year 1 to Year 3 buildings, extending them to accommodate the three classes per grade. When completed, these extended rooms will accommodate Year 1 to Year 4 in three classroom clusters. This work is to be completed in two stages at a total project cost of $6 million. No building works will occur on or near the Transition and Kindergarten classrooms and playground.
It is expected that the building works will be contained to 2023. However, as with all good plans, the School has a contingency in place if the building works are delayed and creep into 2024. Below are two picture galleries showing the design of the buildings and the other progress to date.
The School has engaged the same architects and project manager as the Integrated Studies Precinct, so the expected classrooms and collaborative spaces that will make up the new rooms will be outstanding. A presentation has been provided to give parents a glimpse of the finished classrooms and collaborative spaces.
Initial conceptual planning will shortly commence for the construction of Year 5 and 6 classrooms to replace the demountable rooms. As much as we would like to build more quickly, one project at a time is all that can be managed while housing students on-site safely and practically.